Filed in: appearances , blues album , didn't it rain , music , news
Following the huge success of his debut album 'Let Them Talk',  Hugh Laurie will release his second album 'Didn't It Rain' on 6th May. A US release will follow in September.
Recorded at Ocean Way Studio in Los Angeles 'Didn't It Rain' sees Hugh Laurie depart the sounds of New Orleans as he follows the trajectory of the blues upstream and into the American heartland.
The album will be available to pre-order in the UK from 25th March.
In support of this release Hugh will also be undertaking an eight date UK Tour in June, performing at the following venues:
13th – Bristol, Colston Hall
14th – London, Hammersmith Apollo
15th – Oxford, New Theatre
17th – Brighton, Dome
18th – Birmingham, Symphony Hall
20th – Manchester, O2 Apollo
22nd – Edinburgh, Playhouse
23rd – Gateshead, Sage
Fan pre-sale tickets will be available HERE from 9am on Wednesday 20th March and will go on general sale via www.livenation.co.uk  at 9am on Friday 22nd March.
Filed in: appearances , blues album , music , news
Hugh is scheduled to play a gig in Zurich next July 14th. More info here.
Filed in: movies , news
Before today, all we knew about Disney's Tomorrowland was that Brad Bird would direct George Clooney in it, Hugh Laurie would probably sign as the villain, and Damon Lindelof signed a seven-figure deal to co-write the script. Now we finally have an idea of what Tomorrowland is about, and it involves alternate dimensions and robots and a theme park.
Hitfix  posted an extended synopsis. The short version is, George Clooney is playing the middle-aged man (Frank Walker) and Hugh Laurie is playing David Nix, a corrupt boss of an alternate dimension's Disneyland.
The "Tomorrowland" that they keep referring to in this break-down appears to be a place where science has blown past the world we live in, and when Frank Walker was a young man, he first encountered the promise of Tomorrowland at the 1964 World's Fair. David Nix was there, showing off his own work, and he told Walker to come back when he was older and his inventions actually worked. A girl named Athena saw great promise in 11-year-old Frank, though, and she snuck him into Tomorrowland. Eventually, Frank was discovered by Nix and thrown out, but not before learning that the girl he loved, Athena, was actually a robot.

By the time we meet Frank in the film, he's much older, and George Clooney is set to play the part. Nix is the role that Hugh Laurie is signed for, and by the point the main story of the film kicks in, Nix has been in charge of Disneyland for many years, and he's become rotten, corrupt. Athena, unchanged since Frank was a young man, plays a key role in the film, and the hero is a girl named Casey who has a quick scientific mind that becomes important as the story unfolds. Nix is a guy who values technical accomplishment over creative thinking, and when he throws Frank out of Tomorrowland, he's not alone. Every creative thinker is banished, allowing Nix to focus purely on aesthetics and technical advancement for its own sake. [Hitfix]
I'm not sure why that synopsis starts with the statement that Tomorrowland "appears to be a place where" yadda yadda. That's a very detailed synopsis if it's based on what something "appears to be". We can play at that game. It appears to be that Hugh Laurie's character, who runs the alternate universe's Disneyland, will die and be cryogenically frozen. Then George Clooney goes to Six Flags. We just used imagination to discover all kinds of new things!
Filed in: news
We'll have to wait for another project to see Hugh back on TV. It's been confirmed that Hugh won't be starring in NBC's Crossbones. John Malkovich has signed to play Captain Blackbeard. Read more here.
Filed in: news , video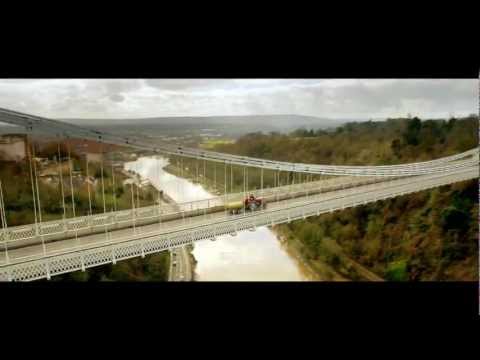 Filed in: appearances , movies , music , news
From director Lily Keber comes the feature documentary, Bayou Maharajah: The Tragic Genius of James Booker which explores the life, times and music of James Booker, the legendary New Orleans performer who Dr. John proclaimed "the best black, gay, one-eyed junkie piano genius New Orleans has ever produced."
The film will be making its World Premiere at the 2013 SXSW Film Festival next month.
The project recently raised over $18,000 in completion and music rights costs, en route to its premiere.
The film includes Interviews with: Harry Connick, Jr., Hugh Laurie, Dr. John, Allen Toussaint, Irma Thomas, Charles Neville, Cosimo Matassa, Harry Connick Sr., Joe Boyd, Bunny Matthews, Ron Cuccia, Joshua Paxton, Tom McDermott, Reggie Scanlan, Ronald Markham, George Winston, and countless others.
Filed in: movies , news
Hugh Laurie is in negotiations to play the villain in Tomorrowland, Disney's top secret sci-fi project starring George Clooney and being directed by Brad Bird.
The plot of the movie project, which until a couple of weeks ago was being called 1952, is under lock and key, though it has been described as being in the vein of Close Encounters of the Third Kind, Steven Spielberg's 1978 movie about a man searching for extra-terrestrials on Earth.
All that is known about Laurie's character is that he serves as the movie's antagonist.
Lost co-creator Damon Lindelof co-wrote the script with Jeff Jensen, an editor at Entertainment Weekly.
The pedigree of Bird and Lindelof, their standing in the geek community and the force field of secrecy enveloping the project have raised interest in Tomorrowland. 
Laurie is best known for his Emmy-nominated starring role as the brilliant but cold title character in Fox's House M.D. which ran from 2004-12. The show kept him busy, but he did find time to appear in the ensemble drama The Oranges and to lend his voice to such animated fare as Arthur Christmas and Monster vs. Aliens.
He is repped by WME.
Filed in: blues album , music , news , pictures
Here's proof that Hugh has been quite busy lately. He promised he'd make a new album if "Let Them Talk" did well and he's kept his work. Gaby Moreno posted this lovely pic in her FB after recording some songs with Hugh.
Calendar
HL Fan on Facebook
Projects
Search on HL Fan
TV Schedule
Affiliates
Link Us
Disclaimer